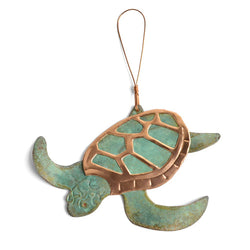 Don't
 we all need a lot of 
patience with what's going on in our world?
So here it is-turtle 

ornaments

 

from

 pure recycle copper.
The turtle is a positive omen bringing 10,000 years of happiness. The Cosmic Mountain and the abode of the Jennin are supported by a tortoise. Chinese – The turtle carries the world on its back. This is a symbol of fertility, vitality, and great patience.
Measurements- 3.75 inches height/ 

5.25 

width.
Send personalized ornament gifts !!!
Get 

Your

 2021 Dated 

Ornaments with name/ message personalized by us.
Send

 us your request with details at the shopping card note aria.
Here are some ideas:
• Hang on a window or mirror with a suction cup
• Use as a unique napkin ring gift for dinner guests
• Drape one over the neck of a wine bottle
• Gift wrap accent
• Candle accent
Handcrafted from recycled copper with attention to  detail.
No two are exactly the same

as inherent ingredients in the copper along with the patina natural processes application technique and weather conditions all play a part in creating the unique patina of each ornament.