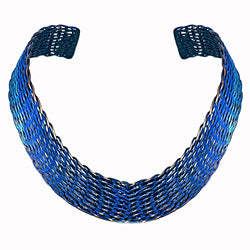 Denim Copper Woven Choker
 Take your style to the next level with our exquisite Blue's Copper Woven Choker! Woven from upcycled copper, each piece is soldered perfectly and measures 16"L x 0.75"W. Each piece is protected from tarnishing with a coating. Plus, it's hypoallergenic and nickel-free!  Flexible to wear and lightweight.
You'll love your one-of-a-kind piece that dares to challenge the trends!