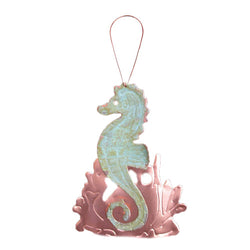 Don't
 we all need a little strength with 
what's going on in our world?
So here it is-seahorse 

ornaments

 

from

 pure recycle copper with all you need-please read-
The Islanders believed that the seahorse is a luck of good fortune/charm an attribute of the sea, the seahorse is considered to be a symbol of strength and power. ... Divers have long viewed the seahorse as a good luck charm too.
Measurements
- 
4
 inches height/ 5.5
 width.
Send personalized ornament gifts !!!
Get 

Your

 2021 Dated 

Ornaments with name/ message personalized by us.
Send

 us your request with details at the shopping card note aria.
Here are some ideas:

• Hang on a window or mirror with a suction cup
• Use as a unique napkin ring gift for dinner guests
• Drape one over the neck of a wine bottle
• Gift wrap accent
• Candle accent
Handcrafted from recycled copper with attention to detail.
No two are exactly the same

as inherent ingredients in the copper along with the patina natural processes application technique and weather conditions all play a part in creating the unique patina of each ornament.
My path as an artist was brought to life out of a traumatic clinical death experience during labor with my daughter. As i came to terms with this experience i gained a new perspective and dedication to my artistic calling. I am deeply inspired by the messages I received during this experience and the connection between the spiritual and physical world. My jewelry is eco-friendly utilizing recycled metals and materials, and my creations are deeply connected to the story behind the materials and the onward intentions to their future owners. Each piece is a conversation starter that enhances the wearer's unique life purpose. My Soul-to-Soul collection is my deepest and most inspiring collection to date, unleashing a sense of healing, acceptance, and prosperity.
Our customers happiness is our number one priority and all of our products come with a satisfaction guarantee.
Nurit have over 30 yrs of experaince and expert and
professional with custome, event & Wedding Jewelry.
Let's make it fun, meaningful, and drama-free.
Meet Nurit and get her long experice advice free.
Book your free appointment NOW!
Call us at
(603) 232-5609
Email us
nurit@nuartjewelry.com
Our Studio is located at:
21 West Auburn St #302
Manchester, NH 03103
Open to the public by
Appointment only