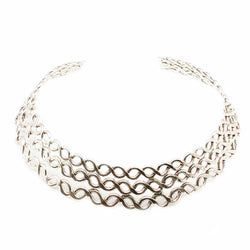 Silver Weaving Twisted Silver Choker
 Weave a magnificent shine in sterling silver, elegantly twisted in three layers and soldered at the ends. The flexible choker mimics the woven construction enabling it to bend slightly. Adorning your neck with a circumference of 16 inches and a width of 2 inches, and boasting a 3.25 inch opening between the ends, this statement piece is the perfect addition to your jewelry wardrobe.
Ideal 7th anniversary gift, this choker has been protected with a special coating to resist tarnish, ensuring its hypoallergenic appeal remains intact. Each piece is one-of-a-kind, so yours may vary slightly from the photo. Enjoy its unique flexibility as you embrace the beauty of this handcrafted masterpiece.